Online Master of Professional Studies in Sport Management
A master's degree with an emphasis in Sport Management is a stepping stone towards a sports management career. Throughout this 30-credit hour program, you will help you develop experience in the areas related to communication, strategy, and leadership techniques needed to be successful as a Sport Management Professional.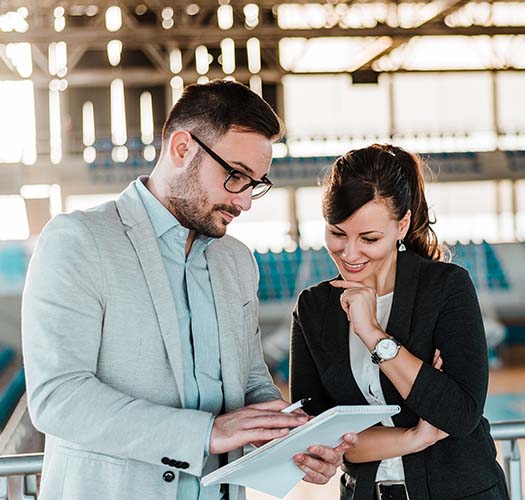 A Master's Degree in Sports Management will open doors for you to pursue a career in…
Pro Teams & Leagues including the NFL, NBA, MLS, MLB, NHL, UFC, EPL, and all minor leagues
College Athletics – currently there are over 1/2 million NCAA athletes at over 1000 universities
Sports Agencies: Become a Sports Agent in the NFL, NBA, MLS, MLB, NHL, UFC, EPL
Team & Player Marketing Agencies – new Name, Image, and Likeness legislation has changed the landscape for college athletes. Over half a million athletes now may work with marketing agencies.
Non-profit Sports Entities Olympic Committees and Organizations, College Conferences, Bowl Game Administration, US Sports Association including AAU Basketball, USA Volleyball, US Soccer Federation, USA Baseball, Special Olympics, YMCA/YWCA, Boys & Girls Clubs
Elevate Your Program
Fort Hays State University has partnered with Sports Management Worldwide, SMWW, the global leader in online sports business education, to give students the opportunity to gain a "what you know" and "who you know" real-world experience of working in the field while getting your degree. You will have the opportunity to work with sports entities in the specific field you want to work in; basketball, baseball, football, hockey, soccer, golf, tennis, racing, MMA, rugby, or cricket. You will even find courses in esports, cryptocurrency, and sports betting!
Take any three courses from Sports Management Worldwide and receive six credit hours toward your master's program at FHSU.
Unmatched Support
In addition to your FHSU professors, you would be working with SMWW Mentors, including well-respected general managers, sports agents, scouts, coaches, broadcasters, analysts, and media personalities.
You will allow work closely with Dr. Lynn Lashbrook, SMWW President and FHSU Alumni. He loves helping people pursue their passion for sports. He is a former athletic director, coach, scout, and currently an NFL Agent. He has relationships with sports business employers all over the globe. His goal is to help you find and work in a career you love. In regards to sports, he knows who is hiring, when they hire, and what they want in a new hire.
SMWW will also rework your resume to meet sports industry criteria and add your SMWW Mentors as references. Within the curriculum, you will be working on your portfolio and determining where you want to apply with your new degree.
Interested in learning more? Schedule a free 15-minute consultation with an SMWW Career Counselor.